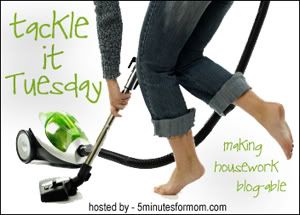 I actually did this one a while back, but I never got around to posting it. I thought I would share what I did this week.
My project was to rip out shelves in the cold storage room. The shelves were set up for canning jars, quart and pint size, to be stored. While we are working on getting produce from the garden, we probably will not do canning or much of it. I just can't envision us having the energy :)
Before with stuff just thrown on to get it off the floor.
Simple tools used to do this project.
Destruction in progress.....
Every other shelf has been removed. The shelves went from 7 inches apart to 17 inches. Now they are actually useful for me.
Food for the wood stove in the garage.
It's still a work in progress. I haven't figured out exactly where I am putting things, but for now they are off the floor. A few things will be getting donated, given away or sold. I've got a pile of stuff to donate and a pile of boxes to burn. One step at a time.
Sitting outside the cold storage room in the basement:
The boxes are food for the wood stove and the black bag has donation stuff in it.
More donation stuff.
Now I need to get the donation stuff loaded in the car (or van when it's fixed) to drop off one Sunday.
Stop by
5 Minutes For Mom
to see what others are up to this week.